Research Article
Microfinance Programs and Social Capital Formation: The Present Scenario in a Rural Village of Bangladesh
ABSTRACT
---
Microfinance has been regarded as one of the most viable tools for poverty alleviation and socioeconomic development with developing countries in recent years. Many of the Non-Governmental Organizations (NGOs) in Bangladesh, currently working as Microfinance Organizations (MFOs) - including the Grameen Bank, Bangladesh Rural Advancement Committee (BRAC) and PROSHIKA-have established innovative microfinance programs that have provided financial services to millions of poor people in the country. Although the main focus of all microfinance programs is income-generation for the poor, one of the important outcomes is believed to be the creation of social capital. In this qualitative study, we investigated the present scenario of social capital formation mainly through the microfinance program of BRAC in a rural village of Bangladesh. The study results suggest that a microfinance program does not essentially create effective social capital unless enforced by the microfinance organization. Social capital formation through microfinance programs largely depends on well-designed social capital building strategy of the respective microfinance organization and its actual implementation in the grass-root level.
---
PDF
Abstract
XML
References
Citation
How to cite this article

---
INTRODUCTION
---
Despite wonderful technological advances and industrial development in the last century, poverty has remained a tragedy in many parts of the world, particularly in developing countries. Eradicating poverty is the most important and most urgent challenge facing the global community today. It is often argued that poor rarely have any asset to use as collateral to raise cash or in other ways transform the assets into productive capital. When survival expenditures consume vertically all the small amount of cash income earned by the poor, they often find themselves in a vicious circle: Producing at a subsistence level makes it difficult to accumulate savings or other assets, thus making it difficult either to invest in productive resources or to gain access to credit in formal capital markets, which leads to low productivity and continued poverty. Due to the inaccessibility of poor to formal credit market, many of them cannot undertake potentially profitable projects. Under this scenario of formal credit market failure, microfinance is considered a boon for millions of poor worldwide, which provide small loans and financial services to poor and low-income people for self-employment projects that generate income.
Microfinance programs typically using group-lending methodology are viewed to utilize existing social capital, embodied in personal relationships and networks. Social capital is crucial for getting information about a prospective Microfinance Organization (MFO) and thus it enhances poor's access to microfinance. Social capital also substitutes for physical collateral to serve as guarantee for small loans to poor households. As described by Van Bastelaer (1999), collective liability lending systems draw on personal relationships among borrowers to transfer from institutional lenders to groups the tasks of selecting borrowers, monitoring their loan use and enforcing repayment. It is believed that microfinance also build new social capital, because it enhances group solidarity and trust among group members and build horizontal and vertical networks of the microfinance group members. While researchers have investigated the success of microfinance in many aspects, with a few exceptions, they paid little attention to social capital building aspect of microfinance. In this study, we investigated the present scenario of social capital formation mainly through BRAC provided microfinance program in a rural village of Bangladesh.
CONCEPTUALIZATION OF SOCIAL CAPITAL
During the past several years, the concept of social capital has become increasingly popular in a wide range of social science disciplines. A growing number of sociologists, political scientists and economists have invoked the concept of social capital in the search for answers to a broadening range of questions being confronted in their own fields. Bourdieu (1985) defines it as "the aggregate of the actual or potential resources which are linked to possession of a durable network of more or less institutionalized relationships of mutual acquaintance or recognition". Nahapiet and Ghoshal (1998) defines it as "the sum of the actual and potential resources embedded within, available through and derived from the network of relationships possessed by an individual or social unit. Social capital thus comprises both network and the assets that may be mobilized through that network". The most popular definition of social capital derives from the seminal work of Putnam (1993) on regional administration in Italy: features of social organizations, such as trust, norms and networks that can improve the efficiency of society by facilitating coordinated actions.
Social capital can be split into three connecting strands: bonding social capital (strong ties between immediate family members, neighbors, close friends and business associates sharing similar demographic characteristics); bridging social capital (weaker ties between people from different ethnic, geographical and occupational backgrounds but with similar economic status and political influence); linking social capital (ties between poor people and those in positions of influence in formal organizations such as banks, agricultural extension offices, schools, housing authorities or the police) (Woolcock, 1998). Poor people typically have plenty of bonding social capital-links with people in similar circumstances to themselves; they have some bridging social capital-scattered friends, acquaintances and distant relatives in other areas; but next to no linking social capital or 'friends in high place' to help deal with commercial, educational, legal, or political organizations. It is believed that microfinance groups are mobilized by existing bonding social capital of the members. Then bridging and linking social capital are built gradually as the group members get involved with microfinance programs actively.
MICROFINANCE: BANGLADESH CONTEXT
Bangladesh, like other South Asian countries, has been described as a staunchly patriarchal society. Among the poor in rural Bangladesh, systems of patrilineal descent, patrilocal residence and purdah or female seclusion interact to isolate and subordinate women. Because of purdah many women are confined to the homestead and the area immediately surrounding it and their contacts with the world outside of the family are extremely limited. Women are socially and economically dependent on men. Education is often considered irrelevant for girls and at an early age they learn to accept deprivation relative to male family members. Finding a good husband to marry with is far more important for the status of the family. Dowries are often paid so that a married woman is treated well by her husband's family. These social norms curtail women's involvement in market transactions and constrain their potential to generate incomes, reinforcing their economic dependence. Therefore, rural poor women in Bangladesh are often called "poorest of the poor" and almost all MFOs focused their microfinance and other development programs targeting to advance women.
BRAC started as an almost entirely donor funded, small-scale relief and rehabilitation project in 1972 to help the country overcome the devastation and trauma of the Liberation Wars. In recent years, BRAC has emerged as the largest Non-Governmental Organization (NGO) in the world employing 97,192 people, with the twin objectives of poverty alleviation and empowerment of the poor. BRAC's outreach covers about 100 million people and all 64 districts of the country (BRAC Annual Report, 2006). More than 50% of the microfinance borrowers of BRAC are women. The majority of MFOs in Bangladesh, including BRAC, began to operate microfinance services based upon group lending methodologies with dynamic incentives and non-financial services sponsored by foreign donors. Such programs are also referred to as "credit-plus" (Edgcomb and Barton, 1998; Zohir et al., 2001) as they provide services and training on various aspects such as healthcare, family planning, non-formal education etc. that go beyond financial services, but help the microfinance borrowers to skillfully utilize their borrowed money in income generating activities and self-employment.
MATERIALS AND METHODS
---
This field study was conducted at Chandair, a rural village in Bangladesh. Chandair is a village under Gorpara Union of Manikgonj Sadar Upazila at Manikgonj District in Bangladesh. It is located in 4.5 km northwest of Manikjong District city center and about 70 km far from Dhaka, the capital city of Bangladesh. Manikgonj District represents a unique example of underdevelopment and social inequality with huge poor population nearby the so-called "lustrous" capital city of Bangladesh. Therefore, many of the large NGO-MFOs of Bangladesh set up their experimental area in Manikgonj District soon after their emergence. Many of the rural people of this district have long exposure to outsiders, because staffs of different NGOs and international donors frequently visit this area. More specifically, Dohkkhin Mollik Para of Chandair Village has been selected for this study, mainly because this is one of the pioneering areas in microfinance programs in Manikgonj District by BRAC. By organizing destitute women of this para BRAC established Dohkkhin Chandair Mohila Samitee (South Chandair Women's Organization) and started social welfare activities followed by microfinance programs in 1977. Therefore, we had the opportunity to investigate social capital scenario in this area, which have long history of microfinance and some long-time borrowers involved in microfinance for more than 25 years.
Chandair village has an area of 253 acres and consists of 13 para and among these Dohkkhin Mollik Para is the biggest one in terms of population and area. There live about 100 households in this para and almost all of them are from Mollik Bangsha. Microfinance borrowers of this para are proud of that they are the pioneer in microfinance programs at Chandair and neighboring villages. The total population of Dohkkhin Mollik Para is 433, out of which 225 (52%) are male and 208 (48%) are female. The most recent population census reveals that the majority of the people are Muslims (77%) having different bangsha. A significant number of Hindu households, comprising 23% of the population, with various castes and sub-castes are present in Chandair. There is no caste division among the Muslims, but there also exists divisions in terms of power, status, wealth as well as resource control all of which create a hierarchy among them. Such divisions and hierarchy have great influence on social interactions.
Before the independence of Bangladesh in 1971, most of the households of this para had their own traditional weaving machines. That time about 80% households lived on weaving and the rest (20%) on farming. The weavers produced cloths to supply in the local markets. After 1990, they started to supply the cloths in the wholesale markets of Dhaka and gradually few richer households (5%) captured the whole business. Therefore, other weavers gradually left their traditional profession and became poor and landless. The present occupations of the productive aged population include rickshaw driver, handicraft, private job in local area, business, daily labor, private job in abroad, farmer, weaver, motor driver, carpenter, maid servant, mechanic, painter etc. Most of the productive aged populations are home makers (28.5%) and all of them are females. Although home makers are not directly involved with income earning, about 47% of the home makers are involved with microcredit activities and are indirectly involved with income generation for their households.
Study Area
Mostly qualitative methods were used in this study. We used purposive sampling in this study as opposed to random sampling. Because the emphasis is on quality rather than quantity, the objective was not to maximize numbers but to become "saturated" with information on the topic. Primary data were collected using Focus Group Discussion (FGD) and in-depth interviews. Two FGDs were conducted for two purposes. The first one was for an explorative idea about the socioeconomic information of Dohkkhin Mollik Para of Chandair Village and the second one was for the historical growth of microfinance activities and its present status in this para. In each FGD, 10 selected residents of this para attended in an informal but descriptive discussion with us. For in-depth interviews, we selected a total of 10 respondents from this para: 8 are active borrowers (engaged in microfinance program of BRAC for more than 5 years); 1 is defaulter borrower (now expelled for default) and 1 is non-participant of microfinance. Since women are the principal focus of microfinance, all of the respondents are selected from women borrowers.
We used an interview guide prepared for in-depth interviews. The use of the interview guide indicated that there was some structure to the interviews, even though they were treated as conversations during which we drew out detailed information and comments from the respondents. In addition to this organized data collection activities, we informally talked to many residents and non-residents of the study area, e.g., shopkeepers, researchers of Well-Being Development (WeD) Project of PROSHIKA working on that area on gender issues and staffs of different MFOs such as BRAC, Grameen Bank, PROSHIKA, ASA etc. We observed behavior, norms and values of local people (both microfinance borrowers and non-participants of microfinance). We also reviewed the microfinance strategies of BRAC as documented in their reports and compared those to the actual implementation conditions in the field. Most of the findings of the questionnaire survey are reported in another paper. This paper mainly describes the findings of the FGDs and in-depth interview.
RESULTS AND DISCUSSION
---
Emergence of MFOs in the Study Area
BRAC has been the pioneer and leading MFO in Chandair Village since 1977. Koitori Begum, president of Dohkkhin Chandair Mohila Samitee, explained us how BRAC started its activities as:
It is evident from the statements of Koitori Begum that initially social acceptance of NGOs or MFOs were very low. In a patriarchal society like Bangladesh it is not easy for MFOs to concentrate on women. Rural clergy and elites often criticized MFOs to ruin the traditional values and purdah norms mainly followed by Muslim community. Many said the MFOs were run by Christian missionaries and their ultimate goal was to convert the participants to Christianity. Even the target groups were suspicious about MFOs activities.
Yunus (1999) recalled how he had to struggle to convince the eligible women to accept credit. First of all, they would not go in front of him because of the purdah norm, so he ended up talking with them with a screen between them. Moreover, they were reluctant to accept credit because they did not know what to do with it and they had been taught that money is something that should be handled by men only. Although most of the poor women now trust on microfinance programs provided by MFOs, but many of them are still excluded due to their husbands' stiff thinking as one of our respondents said:
There are still many instances that the non-poor community leaded by rural clergy and elites sanctioned rural poor for joining MFO operated groups. However, solidarity of the microfinance groups enforced by MFOs could successfully overcome many of such social problems.
Role of NGOs and Microfinance Groups in Social Capital Formation
Although microfinance programs are aimed to help poor, particularly poor women to overcome poverty for self-employment projects that generate income, they have significant potential role in social capital formation. Grameen bank's "Sixteen Decisions" and BRAC's "Seventeen Promises", a kind of "credo" for the respective members, help to install a great awareness of social and political issues and creation of social capital. At least 6 of "Sixteen Decisions" of Grameen Bank directly enforce formation of social capital among its group members, which are as follows (Yunus, 2005): (1) The four principals of Grameen Bank-Discipline, Unity, Courage and Hard Work-we shall follow and advance in all walks of our lives (2) We shall not inflict any injustice on anyone; neither shall we allow anyone to do so (3) For higher income we shall collectively undertake bigger investments (4) We shall always be ready to help each other. If anyone is in difficulty, we shall all help (5) If we come to know of any breach of discipline in any center, we shall all go there and help restore discipline and (6) We shall take part in all social activities collectively. Similarly, following promises of BRAC also enforces social capital among its group members: (1) We shall not do malpractice and injustice (2) We will try to help others under all circumstances (3) We will be loyal to the organization and abide by its rules and regulations (4) We will attend weekly meetings regularly and on time (5) We will always abide by the decisions of the weekly group meeting. Other MFOs also have similar principles and strategies that enforce their group members to create trust, institutional norms, norms of reciprocity, collective action and horizontal and vertical networks, thus enhance formation of social capital.
Van Bastelaer (1999) argues that the main sources of social capital for Grameen Bank are the continuous relationship between staff and members and the patron-client relationship between loan officers and borrowers. Seibel (2000) evaluated the effectiveness of using Grameen type norms such as regular attendance in weekly meetings, insistence on timely repayment etc. among Grameen replications in the Philippines and concluded that the successful replicators use "hard core social capital of original Grameen approach"-the high moral commitments of leaders based on values enforced through training, peer selection and peer enforcement and credit discipline. The respondents our of in-depth interview expressed their views on formation of social capital aspect as follows: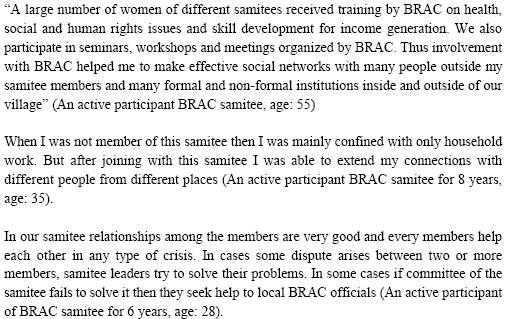 Based on the above observations, it is evident that BRAC plays a vital role in social capital formation through so called "third party enforcement". Without involvement with MFOs or NGOs, poor people's social capital is very low since their networks are very limited and related to strategies only for survival. These networks may be based on bartering and exchange of trust in the sense that borrowing and lending goods and services are integrated in a symmetrical pattern of mutual expectations. Since their position in social hierarchical structure is at the bottom, there is very small valued resourced embedded in their structural positions. Therefore, they must create vertical networks to gain valued resources from upper strata, which is almost impossible without presence of a third party like MFO or NGO.
Perception of the Respondents about BRAC's Current Activities
All of the respondents expressed negative views about the current activities of BRAC at the field level. The old participants identified some historical change of BRAC strategy in operating microfinance activities, which we have identified as lack of commitment of the field managers in social capital formation.
One responded was found to be seriously dissatisfied with the president of the samitee, which clearly indicates that there is serious problem in social capital formation in her group. She states,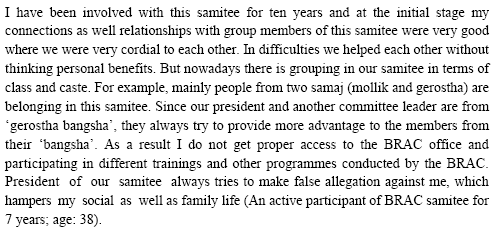 If we overview the historical development of BRAC, it started as an almost entirely donor-funded, small-scale relief and rehabilitation project in 1972 to help the country overcome the devastation and trauma of the Liberation War and focused on resettling war refugees. Their small-scale microfinance activities began in 1974. In late 1979, it established the Rural Credit and Training Program (RCTP), its first large-scale microfinance program. In 1986, RCTP and Outreach Program (another development program without credit) were merged into one intensified and expanded Rural Development Program (RDP), which also rely on microfinance for combating poverty and emancipating the poor. In 1989, BRAC entered a new stage in its financial intermediation activities. RDP was greatly expanded and a new bank project, called the Rural Credit Project (RCP), was introduced.
In the last 10 years, BRAC has established more than 20 related companies/institutions, which has greatly contributed to its financial sustainability and growth. BRAC has recently started international programs in Afghanistan and Sri Lanka. BRAC is now considered to be the largest indigenous NGO in the world. Under such a growth scenario, BRAC field officials also admitted that some of their norms for staff and Village Organization (VO) leader training and supervision and the norms for VO membership eligibility and loan eligibility, had been diluted in the process of raid expansion. The pressure to organize more groups and to make more loans, caused the staff members to overlook some of the important institution-building activities required to properly develop the VOs. They had actually disregarded some of their own rules while pushing forward (Lovell, 1992). Although various attempts have been taken and strategies have been changed time to time to improve the situation, we have found that there is still serious gap between the strategic principles and the actual implementation in the field regarding social capital formation activities.
CONCLUSIONS
---
Group activities like microfinance have high potential to create social capital among rural poor which may significantly affect their capacity to organize for development. Microfinance organizations (MFOs) can play a vital role in creating social capital among their group members through enforcement and mobilization. This study revealed that social capital is not a natural outcome of microfinance. Social capital formation through a microfinance program mainly depends on well-designed social capital building strategy of the respective MFO and its actual implementation in the grass-root level. In the study area, BRAC initially played a vital role in social capital formation among its women group members by various "credit-plus" activities and strong commitment of the field-level staffs. Recent policy changes of BRAC ignored social capital formation aspects of microfinance and hence current microfinance programs of BRAC do not create effective social capital. This study suggests that a microfinance organization should be careful in making and changing its policy so that it may create desired social capital through microfinance activities because without social capital formation the objectives of poverty alleviation and socioeconomic development could not be sustainably achieved.
---

---

---

---

---

Nahapiet, J. and S. Ghoshal, 1998.

Social capital, intellectual capital and the organizational advantage. Acad. Manage. Rev., 23: 242-266.

CrossRefDirect Link

---

---

---

---

---

---

---