Research Article
Areca catechu L.: A Valuable Herbal Medicine Against Different Health Problems
ABSTRACT
---
Areca catechu is a species of palm grown mainly in Asian countries for seed crop. The chemical constituents of A. catechu have been investigated for anti-nematodal/helmintic, antioxidant, anti-venom, modulation of phagocytosis, effect on sperm motility/catecholamine release, as immunosuppression, management of psychiatric disorder and Alzheimer's disease. Recent studies have revealed strong molluscicidal activity of A. catechu against harmful snails for the control of fascioliasis. Despite its laboratory studies on nematocidal/helmintic/molluscicidal activity of A. catechu. More field studies are recommended for effective control of these pests. Alkaloid arecoline is the major constituents of A . catechu for most of their biological effects. A. catechu deserves more attention by scientific community and health experts to explore its full range of benefits in welfare of mankind. Adverse effects of oral ingestion of A. catechu, causing Oral Submucous Fibrosis (OSF), oral submucous cell carcinoma should be taken in consideration, while their use is recommended in solving different health problems.
---
PDF
Abstract
XML
References
Citation
Received: February 15, 2010;   Accepted: March 25, 2010;   Published: July 17, 2010
How to cite this article

---
INTRODUCTION
---
Areca catechu Linn. (Palmae, Arecaceae) commonly known as Betel palm or Betel nut tree is a species of palm. Areca palms are grown in India, Malaysia, Taiwan and many other Asian countries for their economically important seed crop. The seed contains alkaloids such as arecaidine and arecoline, which when chewed is intoxicating and is also slightly addictive. It is a medium-sized tree growing to 20 m tall with a trunk 20-30 cm in diameter. The leaves are 1.5-2 m long, pinnate with numerous crowded leaflets. Areca catechu nut is aromatic and astringent and is said to intoxicate when first taken. The natives chew these nuts all day. In India the nut has long been used as a taeniafuge for tapeworm (Grieve, 1995). Areca catechu nuts are extensively used as a masticatory either alone or with betel leaves. They are also employed for industrial and medicinal purposes. Powdered nuts are prescribed in diarrhea and urinary disorders (Anonymous, 1985).
Chemical composition: The main constituents of the areca nut are carbohydrate, fats, fibre, polyphenol including flavonoids and tannins, alkaloids and minerals (IARC, 2004). The fatty acid constituents of the A. catechu nut oil are; lauric 19.5, myristic 46.2, palmitic 12.7, stearic 1.6, decanoic 0.3, oleic 6.2, linoleic 5.4, dodecenoic 0.3, tetradecenoic 0.6 and hexadecenoic 7.2%. The chief component glycerides are 56% of fully saturated (trimyristin, dimyristins and lauromyristopalmitin); 30% monounsaturated-disaturated (mainly hexadeceno-lauromyristins) and 14% of diunsaturated-monosaturated (oleolinoleo-glycerides, mostly oleolinoleopalmitin). The amino acids present are traces of tryptophan, methionine and larger amounts of proline, tyrosine, phenylalanine and arginine. Areca catechu nut contains; tannin 8-18, non-tannin 7-15 and insolubles 42.44%. The tannins, commonly known as chogaru, are predominantly catechol tannins which closely resemble Mimosa bark tannins and are used to convert the putrefiable hides and skins into leather, for treating fishing nets and for making inks. The A. catechu tannins may also be used as a substitute for synthetic food colours. The polyphenols of A. catechu seed are mainly flavonoids and their concentration decreases with the maturity of the nut (Anonymous, 1985).
Areca catechu seed contains several alkaloids belonging to the pyridine group. Most important of them physiologically is arecoline (Chu, 2001). Other alkaloids present are arecaidine, arecolidine, guvacine, guvacoline, isoguvacine, norarecaidine and norarecoline (Anonymous, 1985; Giri et al., 2006). Arecoline has an effect similar to pilocarpine. It is reported to be cholinergic, exerting a sialagogue and diaphoretic action in normal dosage but in very large doses it depresses the central nervous system and paralyzes the muscles (Anonymous, 1985). It also has a stimulant effect on the occulomotor nerve causing mydriasis, followed by slight paralysis and dilation of pupil. In the liver homogenate, arecoline is decomposed to arecaidine which has no paralympathomimetic effects but only stimulating properties. Arecaidine does not affect the general activity of an animal but in higher doses exerts a sedative effect. Arecoline hydrochloride is found to be a mild antagonist of reserpine at a dose of 1 mg kg-1 intraperitoneally. Arecoline hydrobromide, a commercial salt, is a stronger stimulant to the salivary glands than pilocarpine and a more energetic laxative than eserine. It is used for colic in horses (Grieve, 1995). The active principle of A. catechu is an alkaloid, arecoline, which is considered to be the major constituent responsible for the toxicity (Anonymous, 1985). Arecoline, like nicotine, binds to certain receptors for acetylcholine.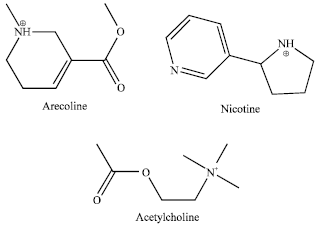 Biological effects of Areca catechu: The Areca nut has been known for a long time for its narcotic-analgesic, sedative and antidepressant properties (Dar and Khatoon, 2000; Pichini et al., 2005). In rural communities and regions where there is a food deficit, it is used as an appetite suppressant (Strickland et al., 2003). Lopez-Vilchez et al. (2006) reported a case of neonatal withdrawal syndrome in an infant born to a woman who was a chronic A. catechu nut user. Arecoline, the principal neuroactive alkaloid in A. catechu seed, was found in the mother's placenta. Oral submucous fibrosis is a chronic disease characterized by subepithelial collagen deposition with formation of bands involving the oral cavity and adjacent structures. Oral submucous fibrosis is a precancerous condition. It is caused by chewing of betel quid (A. catechu L., Piper betel, lime and tobacco) and ready-made products like pan masala and gutka which also contain A. catechu seed (Reichart and Philipsen, 2006; Ariyawardana et al., 2006). The habit of chewing A. catechu nut independently contributes to the risk of both hyperglycaemia and type-2 diabetes in Taiwanese men. This association is dose-dependent with respect to the duration of Areca nut use and the quantity of Areca nut chewed per day (Tung et al., 2004). Gilani et al. (2004) reported the presence of cholinomimetic and acetylcholinesterase inhibitory constituents in betel nut. Wang and Huang (2005) reported that ethanolic extract of A. catechu possesses low antibacterial activity against Helicobacter pylori. Areca nut extract suppresses T-cell activation and interferon-gamma production via the induction of oxidative stress (Abegunde and Adu, 2007). Arecoline is an important component of the areca. Arecoline stimulates the distal colonic spontaneous contraction in rats via M3 receptor and M3 receptor mediate the arecoline induced colonic contraction through extracellular Ca++ influx (Xie et al., 2008). Due to this contraction of muscles, areca was earlier used to treat abdominal distension and constipation (Eglen, 2001; Xie et al., 2002).
Anti-nematodal/helmintic activity: Alen et al. (2000) have evaluated the antinematodal activity of some tropical rainforest plants against the pinewood nematode, Bursaphelenchus xylophilus. It was found that three extracts of Bischofia javanica, Knema hookeriana and Areca catechu exhibited very strong activity at minimum effective dose of 0.7 mg/cotton ball.
Antioxidant activity: Methanolic extract of Areca catechu showed anti-aging and strong scavenging activity against super-oxide anion radical (Ohsugi et al., 1999). Lee et al. (2003) have screened out methanolic extracts of nine medicinal plants traditionally used in Chinese medicine for antioxidant activity versus resveratrol which has been shown to protect cells from oxidative damage. The extracts of A. catechu strongly enhanced viability against H(2)O(2)-induced oxidative damage in Chinese hamster lung fibroblast (V79-4) cells. Relatively high levels of 1,1- diphenyl-2-picrylhydrazyl (DPPH) radical scavenging activity were detected in A. catechu. The activities of superoxide dismutase, catalase and glutathione peroxidase were dose dependently enhanced in V79-4 cells treated with most of the plant extracts. The extracts of A. catechu showed higher antioxidant activity than resveratrol in all experiments.
Modulation of phagocytosis, chemotaxis and adhesion of neutrophils: Hung et al. (2006) have determined the effects of Areca nut on phagocytosis, chemotaxis and adhesion of human neutrophils. The aqueous extracts of ripe Areca nut without husk (rANE) and fresh and tender Areca nut with husk (tANE) inhibited the phagocytic activity of neutrophils in a dose-dependent manner. The levels of internalized fluorescent bacteria in neutrophils decreased after ANE treatment (Hung et al., 2005). However, exposure of neutrophils to rANE and tANE stimulated the chemotaxis activity of neutrophils to N-formyl-Met-Leu-Phe and enhanced the adhesion of neutrophils to human aortic endothelial cells in a dose-dependent manner. Moreover, treatment of neutrophils with rANE was more effective than incubation with tANE.
Effects on sperm motility and cyclooxygenase-2 expression: Er et al. (2006) have reported that sperm motility significantly decreases after arecoline treatment. In vitro, arecoline induces the cyclooxygenase-2 expression of sperm cells in a dose-dependent manner. This is the first report to demonstrate that arecoline may mediate cyclooxygenase-2 expression in human sperms, resulting in inflammation response. This situation may act on the structure responsible for the flagellar motion and cause the reduction of sperm motility.
Effects of arecoline on catecholamine release from perfused rat adrenal gland: Lim and Kim (2006) have studied the effects of arecoline, an alkaloid isolated from A. catechu, on the secretion of Catecholamines (CA) evoked by cholinergic agonists and the membrane depolarizer from isolated perfused rat adrenal gland. Arecoline dose-dependently inhibits CA secretion from isolated perfused rat adrenal gland evoked by activation of cholinergic receptors. At lower doses arecoline does not inhibit CA secretion through membrane depolarization, but at larger doses it does. This inhibitory effect of arecoline may be mediated by blocking the calcium influx into the rat adrenal medullary chromaffin cells without the inhibition of Ca2+ release from the cytoplasmic calcium store.
Areca in management of psychiatric disorders and Alzheimer's disease: Arecoline present in areca nut has been used to treat both depression and schizophrenia (Dar and Khatoon, 2000; Sulivan, 2000). Arecoline has been used to treat patients with Alzheimer's prehensile dementia (Christie et al., 1981). The response is not equally effective in all persons. There are sum-populations among elderly both with and without Alzheimer's disease, who respond differently to the same drugs (Francis et al., 1999).
Anti-venom activity: Tannins from plants are used as antidote of snake venom (Okuda et al., 1991), which interact with snake enzyme systems (Mahanta and Mukharjee, 2001). Pithayanukul et al. (2005) tested plant polyphenols from the aqueous extracts of Areca catechu and other plants for their inhibitory activities against Naja kaouthia (NK) venom by in vitro neutralization method. Areca catechu extracts could completely inhibit the lethality of the venom. The ED50 of plant tannins in inhibiting NK venom activities varied according to condensed tannins and their content in the extracts. The anti-venom activities of these plant polyphenols by selectively blocking the nicotinic acetylcholine receptor and non-selectively by precipitation of the venom proteins were suggested.
Immunosuppression, hepatotoxicity and depression of antioxidant status: Dasgupta et al. (2006) have reported that arecoline arrested splenic lymphocyte cell cycle at lower concentration with induced apoptosis at higher concentration there by causing immunosuppression in arecoline recipients. Besides, it resulted in hepatotoxicity in arecoline recipient mice by disrupting the hepatocyte ultrastructure, as judged by liver ultrastructural studies that showed decreased nuclear size, RER with profusely inflated cysternae and abundance of lipid droplets and by up regulating hepatotoxic marker enzymes (SGOT and SGPT) in serum. Arecoline also caused depression of antioxidants, i.e., Superoxide Dismutase (SOD), catalase, reduced glutathione (GSH) and Glutathione-S-Transferase (GST) that are known to neutralize reactive oxygen species. Chang et al. (2009) reported that Areca nut extracts induced the complexes cytokine profile. Cytokines represent a central role in inflammatory tissue destruction and regulate the immune responses of Areca nut extracts increased the expression of inflammatory cytokines, tumor necrosis factor d, interleukin- 1β, 6 and 8 in peripheral blood mononuclear cells. According to Chang et al. (2009) oxidative stress is involved in areca nut extract- associated immune alteration.
Oral toxicity/cancer: Use of areca nut is associated with a number of important oral disorders including leukoplakia, oral submucous fibrosis (OSF), oral squamous cell carcinoma and pharyngeal carcinoma (Jeng et al., 1999; Trivedi et al., 2002; Lee et al., 2005). The incidence of oral cancer is high in Asia, where a high proportion of the population has areca nut habits (Parkin et al., 2002, 2003). Merchant et al. (2000) have shown that areca nut chewing cause 9.9 times more risk of developing oral cancer than no-chewers. Lin et al. (2006) reported that Areca (betel)-chewing is associated with the high prevalence of Oral Squamous Cell Carcinoma (OSCC) in Asians. NFKβ1 encodes a 105 kDa protein that can be processed to produce p50 subunit of nuclear factor-kappaβ protein complex. A insertion (ins)/deletion (del) polymorphism (-94ins/delATTG) in NFKβ1 promoter, which may drive the ins allele two-fold increase in NFKβ1 transcription relative to del allele, was recently found. This study identified that the odds ratio in OSCC carrying ins allelotype were 1.78 relative to controls (56.7 vs. 41.8%) in subjects more than 50 years old. L allelotype of heme oxygenase-1 (HO-1), accounting for a long (GT) (n) repeat in HO-1 promoter, is associated with the risks of areca-related OSCC. Subjects carried both NFKβ1 ins and HO-1 L allelotypes had significant risks for various subsets of OSCC. OSCC with lymph node metastasis or advanced stage had significantly higher frequency of NFKβ1 ins and HO-1 L allelotypes. This study suggested that the functional NFKβ1 promoter polymorphism could be valuable for assessment of cancer risk.
Molluscicidal activity: Jaiswal and Singh (2008) reported that A. catechu seed is a potential source of botanical molluscicides against Lymnaea acuminata. These snails are the intermediate host of liver fluke Fasciola hepatica and F. gigantica, which causes 94% fascioliasis in the buffalo's population of northern India (Singh and Agarwal, 1981, 1983). The active molluscicidal components of A. catechu seed are soluble in chloroform, ether, acetone and ethanol. The toxicity of ethanolic extract of A. catechu seed is higher than other extracts which indicates that the molluscicidal component present is more soluble in ethanol than other organic solvents. Jaiswal and Singh (2008) and Jaiswal et al. (2008) characterized that arecoline is the main molluscicidal components of A. catechu.
The toxicity of the active component of A. catechu seed, i.e., arecoline (96 h LC50 0.14 mg L-1) is more pronounced against L. acuminata than the active molluscicidal component allicin (96 h LC50 3.14 mg L-1) of Allium sativum (Singh and Singh, 1995); azadirachtin (96 h LC50 0.35 mg L-1) of Azadirachta indica (Singh et al., 1996); gingerol (96 h LC50 1.87 mg L-1) of Zingiber officinale rhizome (Singh et al., 1997); ferulic acid (96 h LC50 1.06 mg L-1) and umbelliferone of Ferula asafoetida (96 h LC50 1.10 mg L-1), eugenol (96 h LC50 1.41 mg L-1) of Syzygium aromaticum, limonene (96 h LC50 1.13 mg L-1) of Carum carvi (Kumar and Singh, 2006), papain (96 h LC50 9.74 mg L-1) of Carica papaya (Jaiswal and Singh, 2008) and trimyristin (96h LC50 7.01 mg L-1), myristicin (96 h LC50 0.16 mg L-1) of Myristica fragrans (Jaiswal and Singh, 2009).
A comparison of the molluscicidal activity of column purified fraction of A. catechu seed and active component arecoline with that of synthetic molluscicides clearly demonstrates that the purified fraction and arecoline are more potent. Thus, the 96 h LC50 of column purified fraction of A. catechu seed (3.99 mg L-1) and arecoline (0.14 mg L-1) against L. acuminata are lower than those of synthetic molluscicides- carbaryl (4.40 mg L-1), phorate (15.0 mg L-1), formothion (8.56 mg L-1) (Singh and Agarwal, 1983) and aldicarb (11.50 mg L-1) (Singh and Agarwal, 1981). Molluscicidal activity of arecoline (24 h LC50 0.49 mg L-1) is about 24.08 times stronger than the standard molluscicide niclosamide (24 h LC50 11.8 mg L-1) against L. acuminata (Singh and Agarwal, 1984).
CONCLUSIONS
---
Information from extensive literature review indicates that A. catechu has a broad spectrum of pharmacological effects. There are a number of studies which conclude that A. catechu is the main constituent responsible for oral cancer. However most of the pharmacological activities like antinematodal, antibacterial, anti-venom, antioxidant and molluscicidal activity of A. catechu are well accepted because of the wealth of scientific literature supporting these effects. More research should be undertaken to determine its efficacy against several diseases on man with respect to other natural products and modern drugs. Therefore, A. catechu, deserves more attention by scientific community and public health specialists to explore its full range of benefits in the welfare of the society.
---

Alen, Y., S. Nakajima, T. Nitoda, N. Baba, H. Kanzaki and K. Kawazu, 2000.

Antinematodal activity of some tropical rainforest plants against the pinewood nematode, Bursaphelenchus xylophilus. Z. Naturforsch., 55: 295-299.

PubMed

---

---

Ariyawardana, A., A.D. Athukorala and A. Arulanandam, 2006.

Effect of betel chewing, tobacco smoking and alcohol consumption on oral submucous fibrosis: A case-control study in Sri Lanka. J. Oral Pathol. Med., 35: 197-201.

PubMed

---

Chang, L.Y., H.C. Wan, Y.L. Lai, Y.F. Kuo, T.Y. Liu, Y.T. Chen and S.L. Hung, 2009.

Areca nut extracts increased expression of inflammatory cytokines, tumor necrosis factor-α interleukin-1β interleukin-6 and interleukin-8, in peripheral blood mononuclear cells. J. Periodontal Res., 44: 175-183.

PubMed

---

Christie, J.E., A. Shering, J. Ferguson and A.I. Glen, 1981.

Physostigmine and arecoline: Effects of intravenous infusions in Alzheimers presenile dementia. Br. J. Psychiatry, 138: 46-50.

Direct Link

---

Chu, N., 2001.

Effects of betal chewing on the cental and autonomic nervous system. J. Biomed. Sci., 8: 229-236.

CrossRef

---

Dar, A. and S. Khatoon, 2000.

Behavioral and biochemical studies of dichrometane fraction from the Areca catechu nut. Pharmacol. Biochem. Behave., 65: 1-6.

PubMed

---

Dasgupta, R., I. Saha, S. Pal, A. Bhattacharyya and G. Sa

et al

., 2006.

Immunosuppression, hepatotoxicity and depression of antioxidant status by arecoline in albino mice. Toxicology, 227: 94-104.

CrossRefPubMedDirect Link

---

Eglen, R.M., 2001.

Muscarinic receptors and gastrointestinal tract smooth muscle function. Life Sci., 68: 2573-2578.

CrossRefPubMedDirect Link

---

Er, T.K., E.M. Tsai, L.Y. Tsai, Y.C. Ko and J.N. Lee, 2006.

In vitro

effects of arecoline on sperm motility and cyclooxygenase-2 expression. J. Toxicol. Sci., 31: 75-82.

PubMed

---

Francis, P.T., A.M. Palmer, M. Snape and G.K. Wilcock, 1999.

The cholinergic hypothesis of Alzheimer's disease: A review of progress. J. Neurol. Neurosurg. Psychiatry, 66: 137-147.

PubMedDirect Link

---

Gilani, A.H., M.N. Ghayur, Z.S. Saify, S.P. Ahmed, M.I. Choudhary and A. Khalid, 2004.

Presence of cholinomimetic and acetylcholinesterase inhibitory constituents in betel nut. Life Sci., 75: 2377-2389.

CrossRefPubMedDirect Link

---

Giri, S., J.R. Idle, C. Chen, T.M. Zabriskie, K.W. Krausz and F.J. Gonzalez, 2006.

A metabolomic approach to the metabolism of the areca nut alkaloids arecoline and arecaidine in the mouse. Chem. Res. Toxicol., 19: 818-827.

PubMed

---

Hung, S.L., Y.Y. Cheng, J.L. Peng, L.Y. Chang, T.Y. Liu and Y.T. Chen, 2005.

Inhibitory effects of areca nut extracts on phagocytosis of Actinobacillus actinomycetemcomitans ATCC 33384 by neutrophils. J. Periodontol., 76: 373-379.

PubMed

---

Hung, S.L., Y.Y. Lee, T.Y. Liu, J.L. Peng, Y.Y. Cheng and Y.T. Chen, 2006.

Modulation of phagocytosis, chemotaxis, and adhesion of neutrophils by areca nut extracts. J. Periodontol., 77: 579-585.

PubMed

---

Jaiswal, P. and D.K. Singh, 2008.

Molluscicidal activity of

Carica papaya

and

Areca catechu

against the freshwater snail

Lymnaea acuminata

. Vet. Parasitol., 152: 264-270.

CrossRefPubMedDirect Link

---

Jaiswal, P. and D.K. Singh, 2009.

Molluscicidal activity of Nutmeg and Mace (Myristica fragrans Houtt.) against the vector snail Lymnaea acuminata. Herbs Spices Med. Plants, 15: 177-186.

CrossRef

---

Jaiswal, P., V.K. Singh and D.K. Singh, 2008.

Enzyme inhibition by molluscicidal component of Areca catechu and Carica papaya in the nervous tissue of vector snail

Lymnaea acuminata

. Pestic. Biochem. Physiol., 92: 164-168.

CrossRef

---

Jeng, J.H., L.J. Hahn, B.R. Lin, C.C. Hsieh, C.P. Chan and M.C. Chang, 1999.

Effects of areca nut, inflorescence piper betle extracts and arecoline on cytotoxicity, total and unscheduled DNA synthesis in cultured gingival keratinocytes. J. Oral. Pathol. Med., 28: 64-71.

PubMed

---

Kumar, P. and D.K. Singh, 2006.

Molluscicidal activity of

Ferula asafoetida

,

Syzygium aromaticum

and

Carum carvi

and their active components against the snail

Lymnaea acuminata

. Chemosphere, 63: 1568-1574.

CrossRefPubMedDirect Link

---

Lee, J.W., Y.H. Soung, S.Y. Kim, H.K. Nam and W.S. Park

et al

., 2005.

Somatic mutations of EGFR gene in squamous cell carcinoma of the head and neck. Clin. Cancer Res., 11: 2879-2879.

CrossRefDirect Link

---

Lee, S.E., H.J. Hwang, J.S. Ha, H.S. Jeong and J.H. Kim, 2003.

Screening of medicinal plant extracts for antioxidant activity. Life Sci., 73: 167-179.

CrossRefPubMedDirect Link

---

Lim, D.Y. and I.S. Kim, 2006.

Arecoline inhibits catecholamine release from perfuse rat adrenal gland. Acta Pharmacol. Sin., 27: 71-79.

PubMed

---

Lin, S.C., C.J. Liu, W.I. Yeh, M.T. Lui, K.W. Chang and C.S. Chang, 2006.

Functional polymorphism in NFKB1 promoter is related to the risks of oral squamous cell carcinoma occurring on older male areca (betel) chewers. Cancer Lett., 243: 47-54.

PubMed

---

Lopez-Vilchez, M.A., V. Seidel, M. Farre, O. Garcia-Algar, S. Pichini and A. Mur, 2006.

Areca-nut abuse and neonatal withdrawal syndrome. Pediatrics, 117: 129-131.

PubMed

---

Mahanta, M. and A.K. Mukherjee, 2001.

Neutralisation of lethality, myotoxicity and toxic enzymes of

Naja kaouthia

venom by

Mimosa pudica

root extracts. J. Ethnopharmacol., 75: 55-60.

CrossRefDirect Link

---

Merchant, A., S.S.M. Husain, M. Hosain, F.F. Fikree and W. Pitiphat

et al

., 2000.

Epidemiology and cancer prevention. Int. J. Cancer, 86: 128-131.

Direct Link

---

Ohsugi, M., W. Fan, K. Hase, Q. Xiong and Y. Tezuka

et al

., 1999.

Active-oxygen scavenging activity of traditional nourishing-tonic herbal medicines and active constituents of

Rhodiola sacra

. J. Ethnopharmacol., 67: 111-119.

CrossRefDirect Link

---

---

---

Parkin, D.M., S.L. Whelan, J. Ferlay, L. Teppo and D.B. Thomas, 2002.

Cancer Incidence in Five Continents. Vol. 8. IARC Scientific Publications No. 155. International Agency for Research on Cancer, Lyon, France, ISBN-13: 9789283221555, pp: 838.

Direct Link

---

Pichini, S., S. Abanades, M. Farre, M. Pelligrini and E. Marchei

et al

., 2005.

Quantification of the plant derived hallucinogen salvinorin A in conventional and non-conventional biological fluids by gas chromatography / mass spectrometry after Salvia divinonum smoking. Rapid Commun. Mass Spectrum, 19: 1649-1656.

---

Pithayanukul, P., P. Ruenraroengsak, R. Bavovada, N. Pakmanee, R. Suttisri and S. Saenoon, 2005.

Inhibition of

Naja kaouthia

venom activities by plant polyphenols. J. Ethnopharmacol., 97: 527-533.

CrossRef

---

Reichart, P.A. and H.P. Philipsen, 2006.

Oral submucous fibrosis in a 31-year-old Indian woman: First case report from Germany. Mund. Kiefer. Gesichtschir, 10: 192-196.

PubMed

---

Singh, D.K. and R.A. Agarwal, 1983.

In vivo

and

in vitro

studies on synergism with anticholinesterase pesticides in the snail

Lymnaea acuminate

. Arch. Environ. Contam. Toxicol., 12: 483-487.

Direct Link

---

Singh, D.K. and R.A. Agarwal, 1984.

Correlation of the anticholinesterase and molluscicidal activity of the latex of

Euphorbia royleana

on the snail

Lymnaea acuminata

. J. Nat. Prod., 47: 702-705.

CrossRefDirect Link

---

Singh, K., A. Singh and D.K. Singh, 1996.

Molluscicidal activity of neem (Azadirachta indica A.Juss). J. Ethnopharmacol., 52: 35-40.

CrossRef

---

Singh, O. and R.A. Agarwal, 1981.

Toxicity of certain pesticides to two economic species of snails in Northern India. J. Econ. Entomol., 74: 568-571.

CrossRefDirect Link

---

Singh, S., V.K. Singh and D.K. Singh, 1997.

Molluscicidal activity of some common spice plants. Biol. Agric. Hortic., 14: 237-249.

CrossRefDirect Link

---

Singh, V.K. and D.K. Singh, 1995.

Characterization of Allicin as a molluscicidal agent in Allium sativum (Garlic). Biol. Agric. Hortic., 12: 119-131.

Direct Link

---

Strickland, S.S., G.V. Veena, P.J. Houghton, S.C. Stanford and A.V. Kurpod, 2003.

Areca nut, energy metabolism and hunger in Asian men. Ann. Human Biol., 30: 26-52.

CrossRefDirect Link

---

Sulivan, R.S., 2000.

Effects of chewing betal nut (Areca catechu) on the symptoms of people with schizophrenia in Palau, Micronesia. Br. J. Psychiatry, 177: 174-178.

Direct Link

---

Trivedi, C.R., G. Craig and S. Warnakulasuriya, 2002.

The oral health consequences of chewing areca nut. Addiction Biol., 7: 115-125.

CrossRefDirect Link

---

Tung, T.H., Y.H. Chiu, L.S. Chen, H.M. Wu, B.J. Boucher and T.H. Chen, 2004.

A population-based study of the association between areca nut chewing and type 2 diabetes mellitus in men (Keelung Community-based Integrated Screening programme No. 2). Diabetologia, 47: 1776-1781.

CrossRef

---

Abegunde, A. and F.D. Adu, 2007.

Areca nut extract suppresses T-cell activation and interferon-gamma production via the induction of oxidative stress. Food Chem. Toxicol., 45: 1410-1418.

CrossRef

---

Wang, Y.C. and T.L. Huang, 2005.

Screening of anti-Helicobacter pylori herbs deriving from Taiwanese folk medicinal plants. FEMS Immunol. Med. Microbiol., 43: 295-300.

CrossRef

---

Xie, D.P., M.C. Chen, L.B. Chen, C.Y. Liu and P.S. Wang, 2008.

Effect of arecoline on colonic motality in male rats. Clin. Mol. Med., 1: 24-29.

Direct Link

---

Xie, D.P., L. Qusy, T.Z. Zheng, Y.L. Yang, Y.H. Ding and Y.L. Wei, 2002.

Effect of areca on contraction of colonic muscle strips in rats. World J. Gastroenterol., 8: 350-352.

Direct Link

---

---
Related Articles