INTRODUCTION
Nicotine is classified as an alkaloid and meets the criteria for a highly addictive drug1. Nicotine is not only a stimulant but also a depressant2,3. Nicotine also increases total cholesterol (TC), triacylglycerols (TG) and low-density lipoprotein-cholesterol (LDL-C) serum levels4,5. The excessive production of reactive oxygen species (ROS) may lead to oxidative stress6. These ROS in turn, promote lipid peroxidation in oxidative damage7. Cotinine (main metabolite of nicotine) is produced by liver C-oxidation pathway and used as a nicotine-intake marker8. Kidney is probably the organ which removes cotinine from the liver. Many plants are believed to have highly antioxidant effects9, an important characteristic of medicines associated with the treatment of various diseases10.
Spirulina is classified as a "Superfood". It is a truly amazing food, full of nutritional wonders11. Spirulina platensis and Spirulina maxima are the two most common Spirulina species used in nutritional supplements12. Spirulina, contains large amounts of protein and carotenoids, omega 3 or omega 6 polyunsaturated fatty acid, Gamma linolenic acid, sulpholipids, glycolipids, potassium, zinc and selenium, vitamin A, vitamin E and a variety of minerals13. Nanoparticles can reduce side effects in patients by targeting the area of disease directly and removing the need of circulation throughout the body14,15. Researchers have observed improved drug solubility, controlled release, increased organic bioavailability, increased stability and better long-term storage when encapsulating drugs into nanoparticles (versus non-encapsulated drugs)16. These attributes are promising and necessary for fighting against diseases17. Medicinal significance of natural products was evaluated in some previous studies9,17,18, the present study was conducted to provide an easy route for assessing the therapeutic potential of lung toxicity by nicotine for SP-SeNPs in mice.
MATERIALS AND METHODS
Materials: Spirulina platensis water extract Powder (100%) was purchased from Zazzee naturals, USA. All other chemicals used in this study were of the analytical grade. Fine chemicals [Selenious acid (H2SeO3) (Aldrich), ascorbic acid (99%, Aldrich)] were of analytical grade.
Synthesis of Spirulina platensis in-situ Selenium Nanoparticles (SPSNPs): A 20 mM ascorbic acid (Vc) solution was freshly prepared by dissolving 35.2 mg Vc powder in 10 mL of Milli-Q water. Spirulina platensis water extract (SPWE) was dissolved in deionized water and diluted in deionized water (90 mL) in a conical flask as follows: Dissolved selenious acid (H2SeO3, 0.013 g, 0.01 mmol.) in 10 mL deionized water was added to the solution, with continuous stirring and heating at 60°C for 10 h; forming in-situ after which 200 L of 40 mM ascorbic acid was added as a catalyst; the ruby red SeNPs were suspended and characterized by transmission electron microscopy (TEM).
Spirulina platensis in-situ Selenium Nanoparticles (SPSNPs) characterization: The crystal-line characteristics and grain dimensions of SP-SeNPs were determined by the X-ray diffraction pattern at 25-28°C with nickel (Ni) (D8 Advance X-ray diffractometer) filtered using CuKα (β = 1.54184 A0) radiation as X-rayed source. Scanning electron microscope and field transmission microscope at an accelerating voltage of 15 and 200 Kv have investigated the morphology and size of the SP-SeNPs.
Determination of SP-SeNPs cytotoxicity on cells: The 96 well tissue culture plate was inoculated with 1×105 cells mL–1 (100 uL well–1) and incubated at 37°C for 24 h to form a complete monolayer sheet. After forming a confluent sheet of cells, growth medium was decanted from 96 well micro titer plates and the cell monolayer was washed twice with wash media. Two-fold dilutions of the tested sample were made in RPMI medium with 2% serum (maintenance medium). In each well, 0.1 mL of each dilution was tested, with three wells serving as controls and receiving only maintenance medium. The plate was incubated at 37°C and then examined.
Cells were checked for any physical signs of toxicity, e.g. partial or complete loss of the monolayer, rounding, shrinkage, or cell granulation. MTT solution was prepared (5 mg mL–1 in PBS) (BIO BASIC CANADA INC). 20ul MTT solution were added to each well. Place on a shaking table, 150 rpm for 5 min, to thoroughly mix the MTT into the media. Incubate (37°C, 5% CO2) for 1-5 h to allow the MTT to be metabolized. Dump off the media (dry plate on paper towels to remove residue if necessary). Resuspend formazan (MTT metabolic product) in 200 uL DMSO. Place on a shaking table, 150 rpm for 5 min, to thoroughly mix the formazan into the solvent. Read optical density at 560 nm and subtract background at 620 nm. Optical density should be directly correlated with cell quantity.
Animals: A total of 90 male albino mice weighing approximately 35±5 g (90 mice, 60 for LD50 estimation and 30 mice for estimation of SPNPs lung protective activity) were obtained from the animal house of Cairo University, Giza, Egypt. They were housed in plastic cages with stainless steel covers at the National Cancer Institute Animal House. In a light-controlled room, the animals were kept at a temperature of 21±2°C and a humidity of 55-60%. The animals were kept for one week to acclimate and were given ad libitum access to feed and water.
Determination of LD50 of SPSNPs: Preliminary tests were performed on groups of four mice. SP-SeNPs were administered orally in various doses to determine the range of doses that cause zero to 100% mortality in animals. The LD50 was determined in groups of ten animals by orally administering resveratrol nanoemulsion at different doses of 100, 200, 400, 600, 800 and 1000 mg kg–1. Animals were observed individually every hour for the first day and every day for the next five days following administration of the tested SPSNPs. Throughout the experiment, animals' behaviour and clinical symptoms were recorded. Method of Finney19 was used to calculate the LD50 using the following formula:
Dm : The largest that kill all animals
∑ : The sum of (z×d)
Z : Mean of dead animals between 2 successive groups
d : The constant factor between 2 successive doses
n : Number of animals in each group
Experimental setup: This experiment was carried out to examine the protective effect of SP-SeNPs against nicotine-induced lung toxicity. This experiment was conducted in accordance with guidelines established by the Animal Care and Use Committee of October 6 University. The Research Ethics Committee at the Faculty of Applied Medical Sciences, October 6 University in Egypt, granted ethical approval for data collection (No. 20201202). There were no human subjects used in the studies that served as the foundation for this research; instead, mice were used in an in vivo study. Adult albino mice were divided into six groups with six animals in each. The treatment groups are described in Table 1.
After 30 days of treatment, blood samples were drawn from retro-orbital vein and collected in heparin-containing tubes. The heparinized blood samples were centrifuged for 20 min at 1000 xg. The separated plasma was used to calculate plasma cholesterol22, triglycerides23, cholesterol-high density lipoprotein (HDL)24, phospholipids25 and vitamin C26.
II-Preparation of lung samples: Cervical dislocation was used to kill the animals and then the lungs were quickly removed. To prepare a 25% W/V homogenate, a portion of each lung was weighed and homogenised in a glass homogenizer (Universal Lab. Aid MPW-309, mechanika precyzyjna, Poland) with ice-cold saline. Three aliquots of the homogenate were prepared. The first was deproteinized with ice-cold 12% trichloroacetic acid and the supernatant obtained after centrifugation at 1000 xg was used to calculate decreased glutathione (GSH)27.
The second aliquot was centrifuged at 1000 xg and the supernatant was used to calculate the levels of malondialdehyde (MDA)28, nitric oxide (iNOs)29, tumour necrosis factor-alpha (TNF-α)30, interleukin-6 (IL-6) and interleukin-10 (IL-10)31. The third aliquot of homogenate was used to prepare a cytosolic fraction of the lung by centrifuging it at 10500 xg for 15 min at 4°C in a cooling ultra-centrifuge (Sorvall comiplus T-880, Du Pont, USA) and the clear supernatant (cytosolic fraction) was used to determine the activities of superoxide dismutase (SOD)32 and glutathione peroxidase (GPx)33.
Histological assessment: The lung was cut into pieces and fixed in a 10% buffered formaldehyde solution for histological study. An automated tissue processing machine was used to process the fixed tissues. Tissues were embedded in paraffin wax using standard techniques. Sections of 5 lm thickness were prepared and stained with hematoxylin and eosin for light microscopy analysis using the Bancroft and Steven method34. Following that, the sections were examined under the microscope for histopathological changes and photomicrographs were taken.
Statistical analysis: Data were analyzed using one-way analysis of variance (ANOVA), followed by the least significant difference test using the Statistical Package for Social Science (SPSS) version 18.0 for windows (SPSS, Inc., IBM, Chicago, Illinois, USA)35. The results were expressed as Mean±SD. Values of p<0.05 were considered statistically significant.
RESULTS
Transmission electron microscopy (TEM) analysis showed that the size of SP-SeNPs was around 39.86±0.14 nm with negative zeta potential of +33.14 (Fig. 1).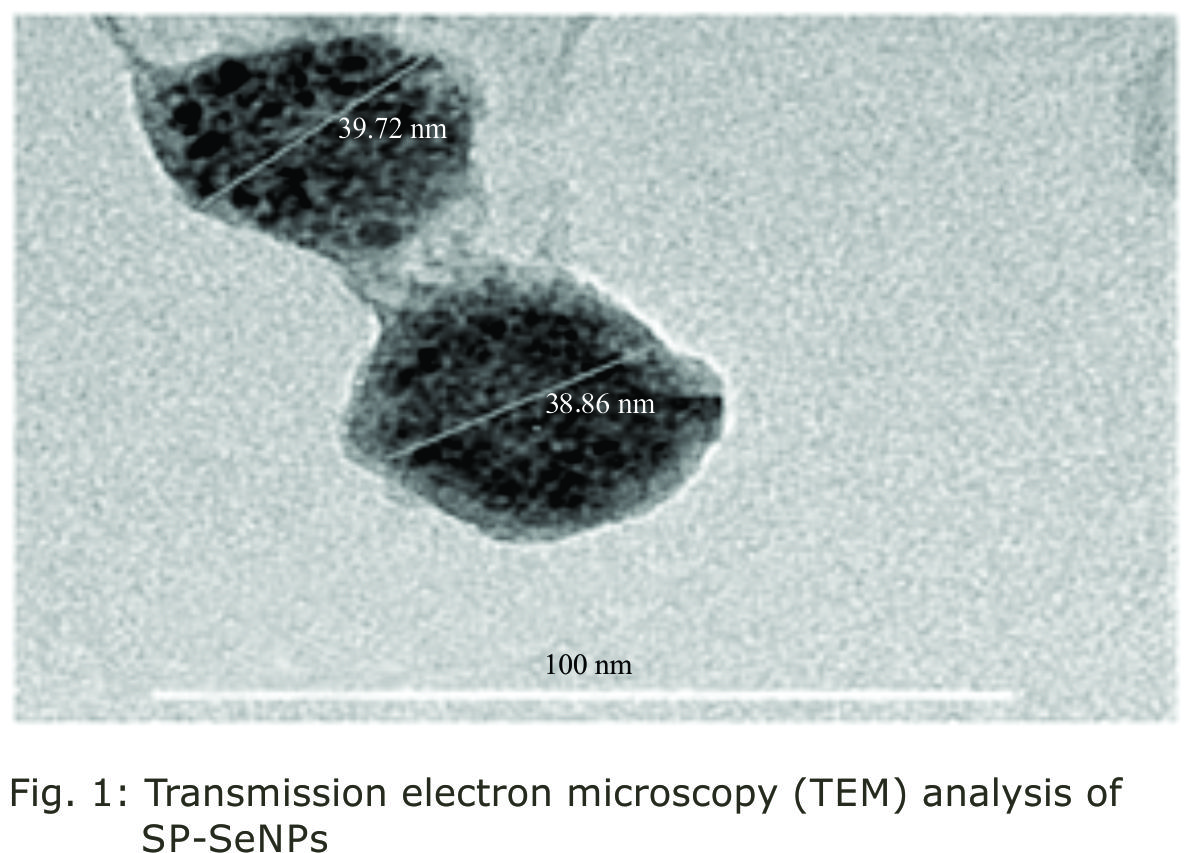 Figure 2 showed that the IC50 of SP-SeNPs against A549 lung carcinoma cell line = 72.7 μg mL–1.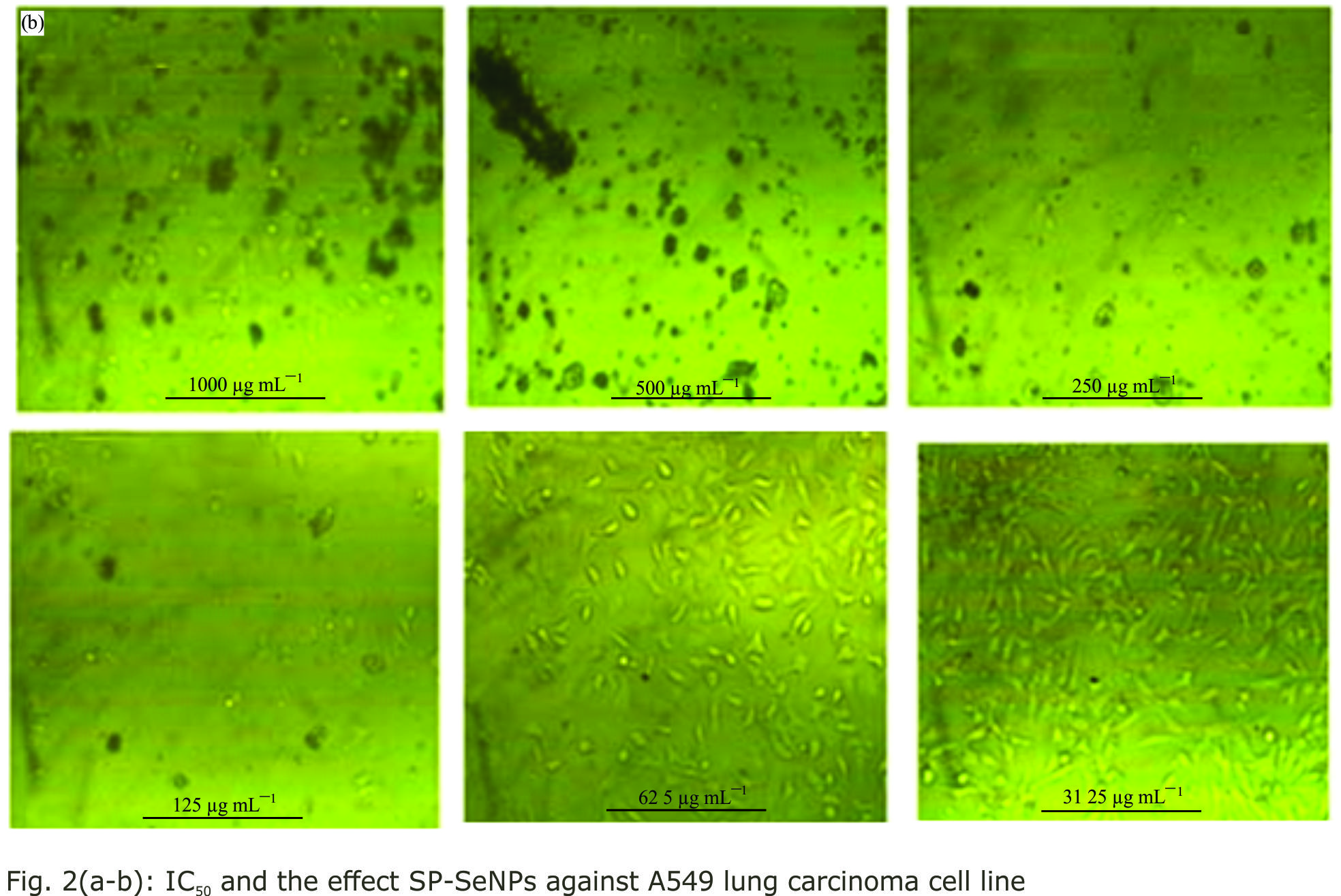 Table 2 shows that oral administration of SP-SeNPs at the doses of 100, 200, 400, 600, 800 and 1000 mg kg–1 body weight resulted in mortalities of 0, 2, 4, 7, 9 and 10 respectively. The dose of SP-SeNPs that killed half of the mice (LD50) was 490 mg kg–1 body weight.
Table 3 shows plasma TC, TG, HDL-C, phospholipids (PLs) and vitamin C levels. Intraperitoneally administration of nicotine led to significant increase in TC and TG while significantly decreased the HDL-C, PLs and Vit. C, respectively, as compared to the normal control group (p<0.05), indicating acute lung injury. Treatment of animals with SP-SeNPs at 9.8 and 24.5 mg kg–1 body weight, as well as 5FU (20 mg kg–1 body weight) significantly decreased the level of TC and TG as well as significantly increased HDL-C, PLs and vitamin C, respectively, (p<0.05), as compared to the nicotine treated group. The effect of SP-SeNPs at two different doses was more pronounced than 5FU.
Table 4 shows a significant increase in lung TNF-α, iNOs and IL-6 as well as significant decrease in IL-10 levels (p<0.05) in mice treated with nicotine compared to the control group. The administration of SP-SeNPs at 9.8 and 24.5 mg kg–1 body weight as well as 5FU 20 mg kg–1 body weight showed significant decrease in TNF-α, iNOs and IL-6 as well as significant increase in IL-10 levels compared with the nicotine treated group of mice after 30 days (p<0.05).
Table 5 shows a significantly (p<0.05) decreased activities of lung antioxidant parameters (SOD, GPx and GSH) while significant increase in lung MDA was observed in the nicotine-treated mice as compared to the normal control group (p<0.05), indicating acute lung damage. The administration of SP-SeNPs at 9.8 and 24.5 mg kg–1 body weight significantly (p<0.05) increased the lung enzymes activities (SOD, GPx and GSH) in mice and decreased MDA level, as compared to the nicotine-treated group. Also, 5FU treatment has not significantly changed when compared to nicotine treated group.