INTRODUCTION
Oat grains (Avena sativa) are high in carbohydrates and contain about 13% protein and 7.5% fat. Studies that have reportedly used oat as the substrate for the production of xylanase are sparse (Oliveria et al., 2006). Xylanase is a hemi-cellulolytic polysaccharide consisting of 1,4 linked β-D-xylo pyranose residues, most commonly used for beer and juice clarification, pre-bleaching of kraft pulp, improving digestibility of animal feed, bread making and degumming of vegetable fibers such as jute ramie and hemp (Bocchini et al., 2005). Diversified generic species of microorganisms have proven to be carriers of rich source of xylanase enzyme, especially Bacillus species which can secrete high levels of extra cellular xylanase. The amount of nitrogen also plays a vital role in enhancing the rate of enzyme production. NH4NO3, NaNO3 and (NH4)2SO4 have been used essentially as the nitrogen source (Abdel-Sater and El-Said, 2001). Seyis and Aksoz (2005) used a mixture of (NH4)2SO4 and urea and found synergistic increase in xylanase activity. For successful implementation of this new substrate, process parameters such as pH, temperature, substrate concentration, cultivation and aeration time has to be optimized in appropriate reactor configurations.
Artificial neural networks typically use a data driven modeling approach, wherein the principles of Artificial Intelligence (AI) is applied. The concept of neural network modeling has widespread applications in the field of enzymatic biotechnology (Zuo-Ping et al., 2008). Haider et al. (2007) optimized media constituents for enhancing lipase production by soil microbes using ANN and genetic algorithm based techniques. The results of their study showed that ANN based model was able to predict the system behavior clearly showing lipolytic activity of 7.69 U mL-1. An ANN model thus developed for such systems can be used as an objective function for predicting the desired output (enzyme activity).
This study reports the prediction of xylanase activities for enhanced production of xylanase by Bacillus species 2129 under submerged fermentation conditions.
MATERIALS AND METHODS
The experimental part of this research was conducted at the Department of Chemical Engineering, Annamalai University, India, in 2005, while the neural network based modeling work was conducted at the University of La Coruna, Spain in 2007.
Microbial strain: The microbial culture used in this study was Bacillus sp. 2129, obtained from National Chemical Laboratory (NCL), Pune, India. Stock cultures were maintained on slants of nutrient agar medium at 4 °C and were periodically sub cultured to sustain microbial activity.
Media composition: The minimal medium used in this study had the following composition (per liter): beef extract-1 g, peptone-1 g and Sodium chloride-0.5 g. Oat, obtained commercially from Quakers Company was used as the substrate (carbon source) at varying concentrations (0.52-2.87%). All other chemicals used in this study were of analytical reagent grade purchased from Sigma Laboratories (India). The values of NH4Cl and Oat concentration are expressed in %, in (weight/volume) basis.
Experimental study: Twenty experiments at different initial values of oat concentrations, pH and NH4Cl concentrations were conducted in 250 mL Erlenmeyer flasks fitted with butyl rubber stoppers having a working volume of 100 mL. The range and levels of these experimental variables are given in Table 1. These experiments were designed by response surface methodology, a statistically significant approach (Montgomery, 1991) The individual experimental flasks containing the media were sterilized at 15 psi, 121 °C for 20 min prior to inoculation. Bacillus species, maintained on nutrient agar slants were grown for 3 days at 30 ± 1 °C. After sufficient growth, 10 mL of distilled water was aseptically added to each agar slants. Through mild scrapping with a sterilized inoculation loop and by periodic shaking, the colonies were made to suspend. For growth, 200 μL of this suspension was aseptically transferred and provided as the inoculum to the 100 mL media. The Bacillus strain was grown in experimental flasks kept in a rotary shaker (150 rpm) at 30 ± 1 °C and sample aliquots were withdrawn at equal intervals (12 h) for measuring xylanase activity.
Enzyme activity measurements: Xylanase activity was measured by monitoring the reducing sugar concentration released as xylose by the dinitrosalicylic acid (DNS) method (Miller, 1959). The samples were centrifuged at 7200 rpm for 15 min and used for analysis. 0.1 mL of this sample was mixed with 0.9 mL of birchwood xylan solution (5 g L-1) in acetate buffer (0.1 M) having a pH of 5.0 at 60 °C for 10 min. The absorbance was read at 550 nm using a UV/Vis spectrophotometer (Shimadzu, Japan). A unit of xylanase activity was described as the amount of enzyme producing 1 μmol of reducing sugar equivalent to xylose per minute under standard test conditions.
The neural network predictive modeling approach: A Multi Layer Perceptron (MLP) using the back propagation algorithm (Rummelhart et al., 1986) is the most widely used neural network for forecasting/prediction purposes (Maier and Dandy, 1998; Haider et al., 2007). Neural networks acquire their name from the simple processing units in the brain called neurons which are interconnected by a network that transmits signals between them. These can be thought of as a black box device that accepts inputs and produces a desired output. MLP generally consists of three layers; an input layer, a hidden layer and an output layer (Fig. 1). Each layer consists of neurons which are connected to the neurons in the previous and flowing layers by connection weights (Wij). These weights are adjusted according to the mapping capability of the trained network. An additional bias term (θj) is provided to introduce a threshold for the activation of neurons. The input data (Xi) is presented to the network through the input layer, which is then passed to the hidden layer along with the weights. The weighted output (XiWij) is then summed and added to a threshold to produce the neuron input (Ij) in the output layer. This is given by:
Table 1:
Range and levels of process variables
Fig. 1:
Schematic of a multi layer perceptron used for predicting enzyme activity
This neuron input passes through an activation function f (Ij) to produce the desired output Yj. The most commonly used activation function is the logistic sigmoid function which takes the form:
ANN based predictive modeling was carried out using the shareware version of the neural network and multivariable statistical modeling software, NNMODEL (Version 1.4, Neural Fusion, NY)
RESULTS AND DISCUSSION
Optimal conditions for maximum xylanase activity: Experiments were carried out to optimize the effects of various process variables such as initial substrate (oat) concentration, pH and ammonium chloride (NH4Cl) concentration for estimating the maximum xylanase activity. Figure 2 shows the main effects of process variables on the enzyme activity, while Table 2 shows the process conditions and the experimentally measured enzyme activity. It was found that these profiles neither showed a single increasing or decreasing trend, but displayed a combination of both increasing and decreasing trends, suggesting the existence of an optimum condition within the range of experimental study. When the substrate concentration was increased from 0.5 to 1.7% the enzyme activity increased from a value of 0.23 to 1 U mL-1 and then decreased to around 0.2 U mL-1 at a substrate concentration of 2.8772%. With the increase in pH concentration from low to high levels, the enzyme activity decreased from a value of 2.2 to about 0.45 U mL-1 and then the enzyme activity progressively increased to a value of 2.2 U mL-1. Similarly, on increasing the NH4Cl concentration, the enzyme activity first showed a declining trend and then increasing trend at a concentration of 0.6681%. The maximum enzyme activity was achieved for the substrate concentration of 1.7%, pH of 6.807 and NH4Cl concentration of 0.5% (run number 11). The xylanase production was between 0.48-0.49 U mL-1 in the medium with the three test variables at their central level.
Enzyme activity predictions by artificial neural networks: Artificial neural network based models requires the best combinations of network parameters such as training cycle (Tc), neurons in the input (NI), hidden (NH) and output layer (NO), learning rate (η), momentum term (α) and a good algorithm for the predictions to be accurate. Determination coefficient (R2) values between the measured and predicted outputs from the network were used as the performance indicators to determine the accuracy of the ANN predictions. The algorithm

Table 2:
Enzyme activity measured at different combinations of substrate concentration, pH and NH4Cl concentration
Fig. 2:
Main effects plot of process parameters on enzyme activity
Fig. 3:
Comparison of measured and predicted enzyme activity using ANN model
Table 3:
Network training parameters for choosing the best network architecture
Table 4:
Weights and bias terms obtained from the trained network
used for training in this study was the standard back error propagation (BEP) algorithm, which has potentially shown to posses` high capability in predicting process variables (Haider et al., 2007). Table 3 shows the different network parameters used for training the network. The model was trained using different combinations of these parameters so as to achieve maximum determination coefficient values (target value = 1, i.e., 100% correlation between measured and predicted variables). This was achieved by a vigorous trial and error approach by keeping some training parameters constant and by slowly moving the other parameters over a wide range of values. Enzyme activity, U mL-1 was predicted using oat concentration, pH and NH4Cl concentrations as the input variables (Fig. 3). It can be observed that, all the data points for enzyme activity were predicted accurately by the ANN model. Figure 4-6 shows the effect of process variables on the ANN model predicted xylanase activity. It could be observed that, under the experimental conditions and the range of values tested in this study, a maximum enzyme activity of 2.7 U mL-1 could be potentially achieved. Valdez-Castro et al. (2003) reported that ANN based model was able to predict the fed-batch fermentation kinetics of Bacillus thuringiensis. Similarly, Haider et al. (2007) observed that ANN predictions of lipolytic activity using oil, magnesium sulphate and ferrous sulphate as the media constituents showed R2 value of 0.99. The weights and bias terms between the hidden layer connections obtained after network training is shown in Table 4.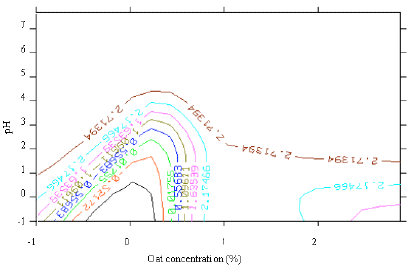 | | |
| --- | --- |
| Fig. 4: | Effect of oat concentration and pH on the ANN model predicted xylanase activity |
| | |
| --- | --- |
| Fig. 5: | Effect of oat concentration and NH4Cl concentration on the ANN model predicted xylanase activity |
| | |
| --- | --- |
| Fig. 6: | Effect of pH and NH4Cl concentration on the ANN model predicted xylanase activity |
In order to evaluate the significant effect of the input parameters on the developed model, a sensitivity analysis was carried out by estimating the Absolute Average Sensitivity (AAS). The sensitivity is calculated by summing the changes in the output variables caused by moving the input variables by a small amount over the entire training set. The AAS is the absolute values of the change in the input (Zurada et al., 1994). These values for NH4Cl concentration, oat concentration and pH were 0.5015, 0.2904 and 0.2080 respectively. According to ANN results, NH4Cl concentrations appear to have a significant effect in predicting the enzyme activity profiles, compared to both oat concentration and pH. This was also evident from Fig. 2, which shows a linearly declining trend in enzyme activity, as the NH4Cl concentration increases from lower to higher levels (0.3318 to 0.6 mg L-1). The results from this analysis reveal the degree of relevance of the input parameters to the outputs.
CONCLUSIONS
Batch experiments were performed with commercially available oat as the substrate under controlled laboratory conditions to optimize production of xylanase. The results from this study showed that under optimum values of substrate concentration-1.7%, pH-6.807 and NH4Cl-0.5%, the maximum enzyme activity was 2.2 U mL-1. The enzyme activity values predicted by the ANN model showed good correlation (0.9995) with the experimental values. The best network architecture (3-6-1), determined by a trial and error approach showed that; learning rate, η-0.7, momentum term, α-0.4, with a training cycle of 18,000 are favorable conditions for high performance predictions. Also, results from sensitivity analysis, suggests that NH4Cl concentrations largely affect the enzyme activity than both oat concentration and pH. The results from this study show the potential application of neural networks to predict xylanase production under submerged cultivation conditions.
ACKNOWLEDGMENTS
The authors of this research would gratefully thank the Faculty of Engineering and Technology, Annamalai University, India for their continued financial support through research grants and the Environmental Management Research Laboratory, Department of Chemical Engineering, Indian Institute of Technology Madras for their research collaborations.