INTRODUCTION
Quantum calculus is very interesting field in mathematics especially in physics. Quantum calculus is also known as calculus without limits. There are two types of quantum calculus, the q-calculus and h-calculus1. This paper focused more on the h-calculus. In classical and quantum physics there has been great interest in the discrete models from last few years2. Cosmic strings and blackholes3, confirmed quantum mechanics4 are mainly based on quantum calculus approach. Certain models are solved by using the theory of the classical discrete polynomials5. Discrete oscillators of Charlier, Meixner oscillators6 and Kravchuk oscillators7-11 that are related to the polynomials of Charlier, Meixner and Kravchuk, respectively and the finite radial oscillator12,13 related with the Hahn polynomials are some of the important instances.
A polynomial is defined on (-∞, ∞) but usually an approximation process is used on a finite domain. The polynomial should be segmented in order to utilize the integration or delta function approach for construction. The nth order polynomial is usually expressed as14:

In almost, all branches of applied sciences researchers encounter some special classes of orthogonal functions such as; Legendre, Jacobi, Chebyshev and Laguerre polynomials15,16. All of these polynomials, but Legendre polynomials in particular have an extensive usage in the areas of physics and engineering. The Legendre polynomials are widely used in the determination of wave functions of electrons in the orbits of an atom17,18 and in the determination of potential functions in the spherically symmetric geometry19, etc. Also, Legendre polynomials have an extraordinary importance in representing a stream of data or a function. The h-Legendre polynomials are a discrete or quantum variant of the classical Legendre polynomials.
The Legendre polynomial of degree n is defined as20:
| | |
| --- | --- |
| | (1) |
where, n is positive integer and x is variable.
So, the purpose of this study was to derive the discrete version of the Legendre polynomial. Legendre polynomials also called hypergeometric polynomials are a class of orthogonal polynomials.
Mathematical preliminaries: The h-derivative for a function f: hZ→ ℂ is defined as:

and this yields the classical derivative if:

we understand the limit in the sense of Bonita and Ralph21.
The product rule for Δh is given by:

and the quotient rule for Δh is given by:

The discrete analogue of the integral

are the Δh-integral:

where, a is hm and b is hn.
Discrete polynomials and related functions: The symbol h has two different meanings h alone referred to a number in (0, ∞) and hn will refer to discrete polynomials. Define the weighted hn monomials of hZ centred about s by the function:

By Cuctha22:

where, s is hm and t is hn.
It is also known from the previous study23 that:

The discrete monomials of hZ centered about s is given by:

Lemma 1: For n, m ∈ ℕ0. we have:

Proof: we compute:

this lemma is also known as shift lemma22.
The formula:

is known as binomial series24.
Discrete legendre polynomial
Definition: we define discrete analogue of Legendre polynomial of degree n about point s by:
| | |
| --- | --- |
| | (2) |
where, t∈ hZ.
Theorem 1: Define y (t) = Pn (t, s: h). Then y(t) satisfies the equation:

Proof: we have for n = 2m: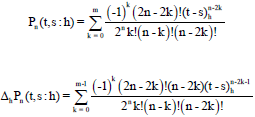 we have by using above lemma:

Also, we have:

| | |
| --- | --- |
| | (3) |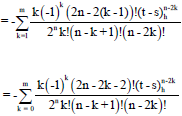 From Eq. 3, we have: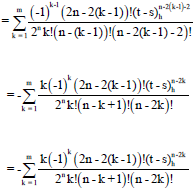 Combining above results, we get:

which is desired difference equation for Legendre's differential equation.
Theorem 2: The following formula holds:

Proof: If n = 2m+1, then:

and so: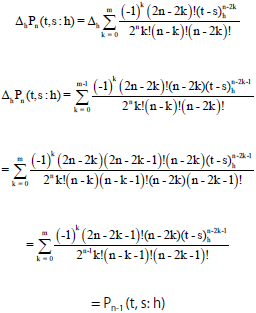 The case n = 2m is essentially the same.
Examples of first few discrete legendre polynomials:
If n = 0, P0 (t, s: h) = 1
If n = 1, P1 (t, s: h) = (t-s)h
If n = 2, P2 (t, s: h) = 3/2 (t-s)2h-1
Theorem 3
Three-term recurrence: The following formula holds:

Proof: If n = 2m, then:

and:

so, we compute: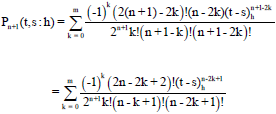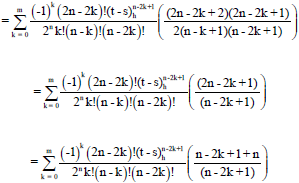 | | |
| --- | --- |
| | (4) |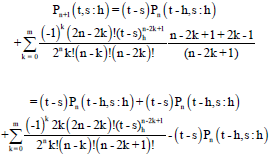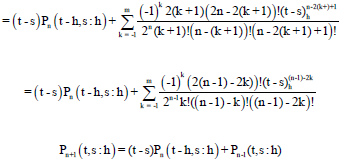 Hence proof.
Rodrigue's formula and orthogonality
Theorem 4:

Proof: We have for n = 2m and nεℕ0: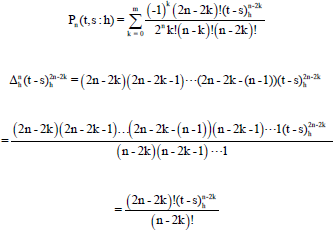 We have: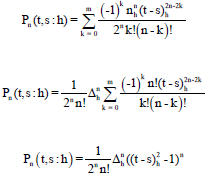 we get the result by using binomial theorem.
Corollary 1: Let <.,.> be an inner product to which the sequence

of polynomials is orthogonal. Then, there exist constants an, bn, cn such that:
Pn+1 (t) = (an,+tbn)Pn(t)+cnPn-1(t)
holds for all nεℕ022.
Moreover, there does not exist an inner product with respect to which all of the Pn functions are orthogonal.
Proof: We have: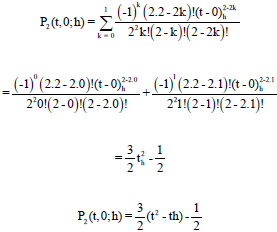 Also:

and: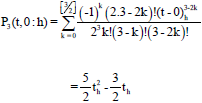 By using above lemma, we have:
| | |
| --- | --- |
| | (5) |
Now:

| | |
| --- | --- |
| | (6) |
Equations 5 and 6 yields the system:

⇒a-b = 5h
Also:

⇒ a = 0 so b = -5h
Therefore, by corollary 1 there is no inner product for which the polynomials are orthogonal.
CONCLUSION
In this work, some useful properties of discrete Legendre polynomial were derived by using the Taylor series about point s. Authors have derived h-difference equation analogue of the Legendre's differential equation, recurrence relation and Rodrigue's type formula. The expectation is that these results can be generalized further on Stephen Hilger time scale basis. These results were derived first time and are likely to have useful applications in Physical Sciences and Engineering.
SIGNIFICANCE STATEMENT
This study discovered the results which are discrete version or quantum variant and which are under consideration are better in comparison to classical results that can be beneficial for physicists and engineers. This study will help the researcher to uncover the critical areas of polynomial theory that many researchers were not able to explore.
ACKNOWLEDGMENT
Authors are highly thankful to referees for their valuable suggestions and helpful remarks for the improvement of this paper which led to a better presentation.