INTRODUCTION
The technique of alteration study is one of combined field and laboratory investigation. Field study includes careful geologic mapping with instrumental control and in sufficient detail to delineate significant alteration zones. Remote mapping of hydrothermal alteration zones has been made possible with the use of spectral satellite imagery. It is because certain alteration minerals associated with hydrothermal mineral deposits show diagnostic spectral characteristics that permit their remote identification. Multispectral image data have been successfully used for mapping hydrothermal alteration since the launch of Landsat MSS in 1972. Techniques for digital enhancement of Landsat TM data to map hydrothermally altered rocks commonly aim at the identification of clay and iron oxide (limonitic) alteration zones (Cro'sta and Rabelo, 1993; Fraser and Green, 1987). The first methods to map hydrothermal alteration where based on qualitative digital image processing techniques. The use of band ratio images, in particular was very popular, since this technique was simple to apply and proofed to be very effective in enhancing absorption features of Fe-oxides and hydroxides in the visible and near-infrared ranges of the electromagnetic spectrum. With the launch of the landsat thematic mapper instruments, since 1986, the capabilities for mapping hydrothermal alteration significantly increased due to the additions of the band 5 and 7 that provided coverage of the short wavelength region of the electromagnetic spectrum in which many clay minerals and micas have their most diagnostic spectral absorption features due to hydroxyl bonds. Techniques for digital enhancement of Landsat TM data to map hydrothermally altered rocks commonly aim at the identification of clay and iron oxide (limonitic) alteration zones (Cro´sta and Rabelo, 1993; Fraser and Green, 1987). Fraser (1991) described the technique for identifying hematite, goethite and vegetation using dimentional ratio. Tangestani and Moore (2000) enhanced Iron oxide and hydroxyl using the Crosta method. Tangestani and Moore (2001) compared three principal component analysis techniques to porphyry copper alteration mapping. Crosta et al. (2003) identified alteration minerals in epithermal deposits in Patagonia, Argentina, using ASTER imagery and principal component analysis. Tangestani et al. (2008) carried out the DPCA method on three spectral bands of ASTER data for discriminating alteration zones. Shafaroudi et al. (2009) utilized band ratios on Aster image for mapping hydrothermally altered minerals in Iran. The remote detection of iron oxide and clay zones in the presence of vegetation, however, is difficult due to similarities in the reflectance spectra of the materials. Iron oxides and vegetation have similar reflectance spectra in the wavelength regions covered by Landsat TM bands 1 and 2. These bands are, thus, together not very useful in distinguishing iron oxides in vegetated regions (Fraser, 1991). Clay minerals have strong reflectance in the spectral region covered by Landsat TM band 5 and an absorption feature in the spectral region covered by Landsat TM band 7. Landsat TM bands 5 and 7 are thus potentially useful in detecting clay zones. However, similarities in shape and relative intensities of the reflectance curves of vegetation and clay minerals in the spectral regions covered by Landsat TM bands 5 and 7 make their differentiation difficult. In the spectral region covered by Landsat TM band 3, iron oxides and clays have high reflectance whilst vegetation has strong absorption. In the spectral region covered by Landsat TM band 4, vegetation has strong reflectance whilst iron oxides and clays show absorption features. Landsat TM bands 3 and 4 can thus be used to differentiate areas of iron oxides and/or clays from areas of vegetation. The present study aims at utilizing Landsat TM data for mapping clay mineral areas in Khetri Copper belt area, India.
MATERIALS AND METHODS
Study area: The study area lies near Kantli fault which separates North Khetri belt and South Khetri belt (Fig. 1). The area lies in SOI toposheet No. 45M/9 and 45 M/13, in Jhunjhunu district of Eastern Rajasthan. The geographic extent lies from 75°43'14" E to 75°50'45"E and 27°53'05"N to 27°59'47"N. The study area is marked by a prominent NNE-SSW shear zone along which numerous felsic intrusives are placed. Significant sulfide mineralization is observed in few places in vicinity of these intrusives.
Fig. 1:

Landsat TM of Khetri Copper belt
Primary rock alteration is widespread all along the shear zone. Secondary alteration due to weathering is common. These geological settings make the study area a suitable site for exploring utility of Landsat TM data for alteration mapping.
Geological settings: The main rock types of the area can be broadly divided into sedimentary metamorphites and intrusive rocks of Precambrian age. The Metamorphites include moderately metamorphosed schists, quartzites, marbles with intercalated calc-silicate rocks and amphibolites. The geological succession of the area is as follows: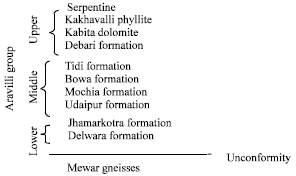 Structure: Structurally the area is complexly folded and many folds show evidences of refolding. The general strike of the formations varies between NNE-SSW and NE-SW. But there are many deviations from these trends at several places. The dips are high and vary between 50° and 70° Westerly or Easterly, but locally the dips may be sub-vertical or sub-horizontal. The most conspicuous structural feature of the region is a series of large scale doubly plunging anticlinal folds, the core of which is occupied by the rocks of the Alwar series. The folds plunge either southwesterly or northeasterly with the axial traces trending generally NNE-SSW to NE-SW. Concomitantly with the folding, the area has also been subjected to intensive strike faulting, but there is not much of lateral shifts. Reverse faults are more common and the mineralization is associated with the openings produced by these faults. The belt is further separated into the North KCB (NKCB) and the South KCB (SKCB) along the NW-SE striking transverse Kantli Fault. The NKCB terrain is characterized by a multiphase structural history, magmatism, metamorphism and copper mineralization (Fig. 2).
Methodology: For improving the application effects, a technique which can use Landsat TM data for mapping alteration zone automatically under sparse vegetation, is utilized here (Fig. 3). The data used in the current study was acquired on 23rd March, 2006. The analysis was carried out in 2008.
Landsat TM image with seven bands was georectified using SOI toposheets on 1:50,000 scale. The RMSE value for rectification was found to be 0.74 pixels. Clay minerals have a marked dip in wavelength range 2080-2350 nm, which corresponds with band 7 of Landsat TM. Thus TM5/7 is considered as an effective band ratio for alteration information enhancement in arid or semiarid area. But in vegetated area, vegetation impedes the alteration information discrimination of TM5/7 ratio image. Analysis of the study area show that both green vegetation and clay minerals contribute to the higher brightness values on the TM5/7 image and most of vegetation has a larger TM5/7 ratio than clays. Thus effects of vegetation needs to be removed, so that we can enhance the alteration information effectively in such an area covered by vegetation. It is well known that IR/R band ratio serves as an excellent vegetation index image. Thus TM 5/7 and TM 4/3 were calculated.
Fig. 2:

Geological map of the area
Fig. 3:
Workflow of the study
The ratio image was transformed using principle component analysis. Once computed, the first principal component (pc#1) contain the contribution of main information in both ratios-that is vegetation; the second principal component (pc#2) contains the contribution of altered minerals. Such a method is called as Directed Principal Component Analysis (DPCA) by Fraser and Green (1987). They have used this method for anlaysing ATM data in tropical savannah woodland with 50 to 70% total vegetation cover and the clay and vegetation have been identified successfully, but few people have done such a study with TM data in subtropical area.
Table 1:
General statistics for Ratio images, Eigen vectors, Eigen values
Fig. 4:

PC's indicating vegetation in bright and hydroxyl-bearing clay minerals in dark tone
This method has been developed for using Landsat TM data enhance the alteration information here and its application is very successful in Khetri area.
The general statistics and principal component eigenvectors and eigenvalues are shown (Table 1).
To know the loading of individual ratio images in principle components, following formula was utilized:
Where:
| | | |
| --- | --- | --- |
| ak,p | = | Eigenvector for band k and component p |
| λp | = | Pth eigenvalue |
| Vark | = | Variance of band k in the covariance matrix |
Accordingly the loadings of individual bands in different principle components was calculated.
| | | |
| --- | --- | --- |
| R11 | = | 2.84 |
| R12 | = | -2.89 |
| R21 | = | 0.41 |
| R22 | = | 0.40 |
The calculations indicate that the loading of band 1 on PC 1 is 2.84 and the sign indicates that the feature will be seen in light tone. Similarly loading of band 1 on PC 2 is -2.89, thus the feature will be seen in dark tone. The loading of band 2 on PC 1 is 0.41 and of band 2 on PC 2 is 0.40. For the present study TM 4/3 is taken as first band and TM 5/7 as second band. Thus in first PC clay mineral areas are represented as dark tone and vegetation as bright tone (Fig. 4).
CONCLUSIONS
The use of satellite images during the early stages of mineral exploration has been very successful in pointing the hydrothermally altered rocks. ETM+ data has been used for enhancing the areas with hydroxyl-bearing clay minerals. Principal component analysis was done on the ratio images and the relevant principal components are chosen to obtain images that show clay minerals (Crosta technique). We can conclude here that Crosta technique can be used as a very reliable method for enhancing the areas with hydroxyl-bearing clay minerals as a fast and cheap tool for exploration minerals.